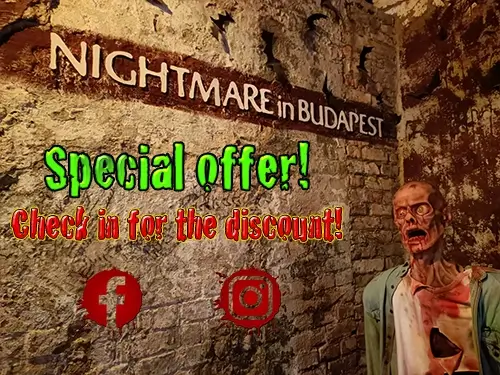 Special offer!
You can come to us at a discounted price if you have check in on Facebook (in the check in panel) that you are currently staying with us and tag Nightmare in Budapest in a photo on Instagram.
For 1-2 people: 7500HUF/person (instead of 8500HUF/person),
for 3-4 people: 6500HUF/person (instead of 7500HUF/person),
for 5-6 people: 6000HUF/person (instead of 7000HUF/person).
A maximum of 6 people can use it at the same time.
The discount is only valid if all participants check in on both platforms. (It is enough to check in to someone who will tag the others.)
Cannot be combined with other discounts.
The offer is valid until the 6th of August!
Those who wish to take advantage of the discount must arrive at the venue 15 minutes before the appointment or must do so in advance. We cannot accept it if someone drops in 2-3 minutes before the appointment and still wants to check in.
Appointment required!
When booking, indicate that you want to take advantage of the discount!
Tel.: + 36 30 215 96 86
Email: This email address is being protected from spambots. You need JavaScript enabled to view it.